OUR MISSION
Our mission is to nurture selected nanotechnologies built on transformational scientific breakthroughs that are offering solutions to improve the way we contribute to the world. We are a venture fund that has the exclusive first right of examination and investment in innovations and intellectual property emerging from The Hebrew University in Jerusalem. The Racah Nanotech fund invests in faculty projects delivered by award-winning researchers in one of the most prestigious academic settings with the express goal of bridging the gap between research and market-ready technologies.
Our research
Today, nanotechnologies offer us solutions that are fundamentally changing our tomorrows. We assemble atoms into supercomputers; we can see single atoms in distant galaxies; we build self-controlled flying robots and can print ready-to-eat-food and ready-to-assemble buildings. With our fund, we plan to innovate remarkable and groundbreaking projects that will continue to advance human capabilities.
our JOURNEY
The Racah Nano Venture Fund was established in 2019 by Yissum, the tech transfer company of The Hebrew University of Jerusalem. Yissum is one of the oldest tech transfer companies in the world with over 50 years in pioneering academic research and technology commercialization experience.


The way we work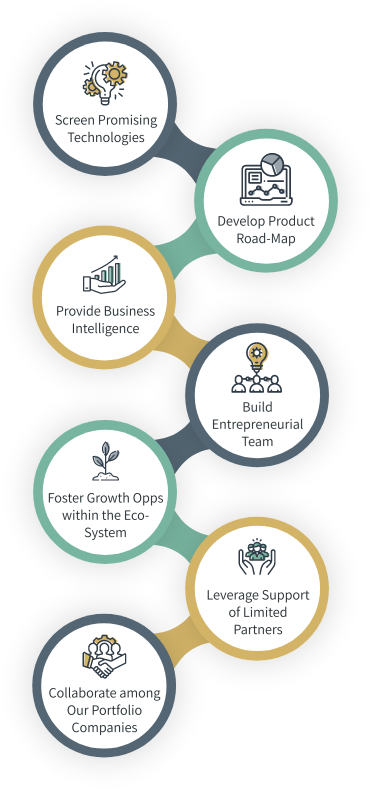 OUR LATEST PROJECTS
Mass Solar Electricity Production:
A New and Effective Way to Harvest Energy
Harnessing the sun's power for energy has long been an aspiration of humankind, but mass solar electricity production has been limited by the efficiency of current commercial solar cells mostly made from silicon. We are working on the next generation of solar cells based on thin film materials derived from perovskite, a crystalline substance that efficiently absorbs light.
Perovskite based solar cells have higher cell power conversion efficiencies and a simple fabrication process that allows for lower cost per watt than prevailing PV solar cells.
Through the use of perovskite, we are developing a multi-layer screen printing process to allow for the printing of solar cells on different substrates and varied transparencies generating a new line of energy.
OUR LATEST PROJECTS
Groundbreaking Electrochemical BioSensor To Detect Harmful Bacteria in Real-Time
Food contamination sickens nearly one in ten people globally each year. Another 420,000 people die annually from food poisoning, and the source – bacterial contamination in our water and the agricultural food chain is an ongoing health and economic threat to consumers and producers worldwide.
Bacterial infections are also the most common cause of sepsis and there is an urgent universal need to develop tools that can rapidly identify these contaminations and infections. Our R&D team is bringing together bio-organic, electrochemical and synthetic chemistry to innovate a fast, selective and sensitive bacterial biosensor.
We are developing a biosensor based on novel short peptides that will selectively bind specific bacteria. Our biosensor will replace the traditional cumbersome microbiological plate culture currently used in the detection of bacteria. With this biosensor, we will be able to catch harmful bacteria before it sickens us and destroys our food sources.
OUR LATEST PROJECTS
Nanoparticle Based Delivery System Greatly Improves Oligonucleotide Therapies for Cancer and Rare Diseases
Oligonucleotide-based therapies are advanced interventions being developed for the management of liver diseases, cancers and other rare diseases. These agents primarily act by gene silencing or RNA interference. There are currently 431 RNA-targeting drug programs in various stages of development, some of which have recently been approved by the FDA.
A major challenge limiting the success and expansion of these therapies are the limited delivery options for oligonucleotides into target tissues and cells. In most cases even though chemically modified, they have a short half-life in vivo and high clearance through the liver and kidneys that forces them out of patient, before they can reach the target tissue.
In a collaborative multidisciplinary project of researchers from biology, chemistry and medicine, we have developed nanoparticles that can load, stabilize and deliver oligonucleotides to target cancer-promoting alternative splicing.
Our nanoparticles delivery vehicles have the potential to become a game changer in oligonucleotide-based therapy.
OUR LATEST PROJECTS
Nanoparticle Probes Can Detect Tumors in Early Stages
Cancer is a leading cause of death and illness today and affects millions of people across the globe. Early detection of the disease is critical to a patient's ability to survive, but medicine still lacks tools to find cancerous tumors in their earliest stages. More than 90% of lung cancer patients ultimately succumb to the disease because it is typically not diagnosed until it has reached an advanced stage.
A key obstacle to early cancer detection is a shortage of medical equipment, specifically the cyclotron, a particle accelerator, which produces the radioactive markers required to perform a PET scan in conjunction with a CT scan. Industry reports indicate that there under 1500 medical cyclotrons available globally today.
Our technology aims to alleviate this challenge by circumventing the need for PET scan and accompanying cyclotron. We have developed nanoparticle probes that bind to enzymes which are overexpressed in activated macrophages in cancer and atherosclerosis. When injected systemically, the probes accumulate at the tumor site and enable detection by a CT scan alone and are not required to be paired with a PET scanner. Our probes also allow for a higher image resolution, thus allowing tumor detection under 7mm in size, which is the detectable threshold using current technology.
Our nanoparticle probes will make it possible for any center equipped with a CT system to detect cancerous tumors at the smallest of sizes, thus making cancer detection accessible to millions of patients who otherwise might not diagnosed in time.
OUR LATEST PROJECTS
Enabling Sustainable Micro-encapsulation
nexocarp offers novel micro-encapsulation solutions.
nexocarp accelerates the sustainable transformation of your products, enabling the R&D, compliance and innovation teams to meet current market needs and future rigorous regulations.
Creating solid particles comprising an active ingredient soluble or dispersible in a core solid lipid and being surface decorated with adequate nanoparticles.
nexocarp offers novel, sustainable microencapsulation solutions to leading players in industries including cosmetics, agrochemicals, food, and pharmaceuticals, with a focus on all-natural microencapsulation products.
For more information : http://www.nexocarp.com